GIANT VOICE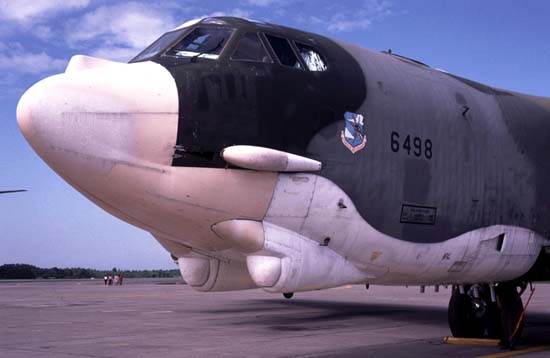 For nearly forty years, Strategic Air Command's best crews gathered to participate in an annual SAC Bombing and Navigation Competition called Giant Voice (later renamed Proud Shield) in an effort to test skills and equipment under exacting conditions and to build morale and sharpen the competitive edge of SAC's bomber and tanker crews.
The Bombing and Navigation Competition had its origins in the late 1940s when America's strategic air forces were in a period of adjustment. Confronted with serious manning, supply and administrative problems throughout its first two years of existence, the Strategic Air Command (SAC) was unable to devote much time to bombing practice. Seeing the bombing accuracy of their crews falling below desired standards, SAC's first Commander General George Kenney decided to hold a yearly bombing competition, called the SAC Bombing Competition. The first competition was held at Castle AFB, CA during the week of 20 thru 27 June of 1948. Ten B-29 groups participated each represented by three crews. Each crew accomplished three visual bomb and three radar releases from a 25,000 feet altitude. The 43d Bomb Group from Davis-Monthan AFB won the first competition.
The SAC Bomb/Nav was next held in 1949, but in 1950, the Bomb Comp was cancelled because of the U.S. Air Force's involvement in the Korean Conflict. The competition resumed in 1951 with the addition of the first Royal Air Force Team flying B-29 Washington's. In 1953, the first pure-jet bomber, the Boeing B-47 Stratojet made its first appearance during the last competition for the B-29, 1956 the first Boeing B-52 Stratofortress entered the contest. The 1959 SAC Bomb/Nav was the first in which aerial refueling was added marking the first appearance of the Boeing KC-135 Stratotanker. In 1960, SAC's first supersonic bomber, the Convair B-58 Hustler took part in the contest. Operational requirements dictated the cancellation of the competition in 1962, 1963, 1964, 1967, 1968, 1972, & 1973.
In 1971 the competition was renamed "Giant Voice".
Giant Voice resumed in November 1974 at Barksdale AFB, Louisiana. The 1975 Giant Voice competition was canceled and replaced by a military exercise nicknamed "Operation High Noon". Operation 'High Noon' served as a transition phase while SAC redesigned the Giant Voice competition. General Dougherty had three primary goals in reorganizing the 'Bomb Comp'. First, he sought to broaden participation in the competition in order to give all crews a feeling of participation in the 'Bomb Comp' progress. Secondly, he wanted to reduce the costs associated with the 'Bomb Comp'. Finally, General Dougherty sought to make the competition more meaningful by injecting more realism into the competition missions. As such, the reforms of 1976 reflected General Power's earlier efforts to transform the competition from a bombing tournament into a realistic test of capabilities of SAC's best bomber and tanker crews.
Electronic countermeasures became increasingly important, as aircraft were required to evade and fend off "hostile" AAA and SAM defenses. In 1978, simulated launches of Short Range Attack Missiles (SRAM) were added to the competition. Each competition after 1978 included multiple simulated SRAM launches as well as the traditional high and low-level bombing. In 1979, an entirely new dimension was added when Air Defense Tactical Air Command (ADTAC) interceptors were sent to 'shoot down' the bombers during the competition. Now, SAC crews had to try and evade live opponents on their way to their appointed targets. Even greater realism was added in 1984 when SAC began to hold part of the competition over the Nellis AFB 'Red Flag' bombing range which permitted competition aircraft to drop inert weapons for the first time in many years. It also provided a more challenging environment as bomber crews attempted to avoid a barrage of simulated anti-aircraft fire, surface-to-air missiles and NORAD interceptors.
The competition was renamed "Proud Shield" in 1987.
SAC held the last Bomb Comp in 1992, Air Combat Command conducted one Bomb Comp in 1994. In 2009, Eighth Air Force revived the tradition with a limited Bomb Comp that included five bomber wings and three airframes (B-1, B-2, & B-52).
(INFORMATION COURTESY OF THE McCHORD AIR MUSEUM)
318TH AT "GIANT VOICE"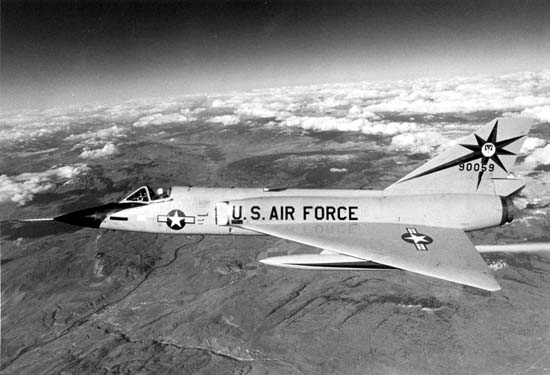 F-106A 59-0059 is pictured wearing "kill" marks from Giant Voice 1979, where the 318th FIS won the Top Interceptor Team award.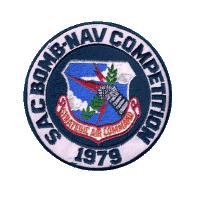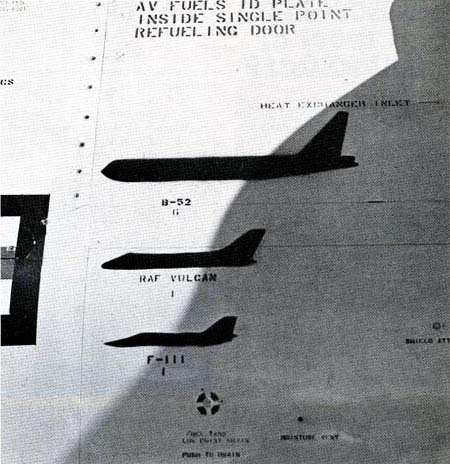 The kill marks carried on F-106A 59-0059 indicate six Boeing B-52s, one Arvo Vulcan B.2, and one General Dynamics FB-111, all killed during Giant Voice '79.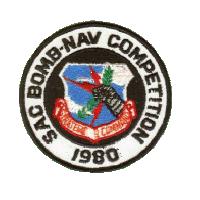 REITZAG AND 318TH FIS SCORE IN
GIANT VOICE '80
NORTHWEST AIRLIFTER - NOVEMBER 21, 1980
"Team work, it's the only way you can do things like this, " said Maj Norman L. Komnick, a member of the 318th Fighter Interceptor Squadron who recently returned from the air defense competition during "Giant Voice."
Major Komnick was referring to the units winning the air defense competition at the annual event, hosted by the Strategic Air Command. This year's competition was held at Peterson AFB, Co Nov 4-5. Capt. Hal Reitzig, one of the two F-106 pilots from the 318th who took part in the event was awarded "Top Gun" for a perfect score. Two SAC B-52 bombers, two Vulcans (British Bombers) and one FB-111 penetrated the Captain's zone of defense and he successfully intercepted them.
Giant Voice consisted of both bombing and navigation competition and involved bombers flying through a hostile area patrolled by Tactical Air Command fighters. The fighters flew out of Peterson AFB and operated in conjunction with the Airborne Warning and Control System to defend their area of assignment. When a bomber was detected, a fighter was dispatched to intercept it. The competition helped both SAC and TAC crews to home their combat skills in a simulated hostile environment.
The 318th FISs Giant Voice team consisted of the following people: Major Komnick, Capt. Harold P. Reitzig, Merlin Hatch, TSgt Ernest G. DeBella, SSgt Daniel K. Lewis SrA. Jerry D. Atencio and A1C. Mark J. Thell. The 318 took top honors last year also, in the first Giant Voice Competition (with ADTAC). Captain Reitzig said that "It was a testimony to what the F-106 can do. It was built as specifically as an interceptor 23 years ago and today it is still doing its job outstandingly." The Captain stressed that the maintenance people who accompanied the team did a great job in supporting them by keeping the "Sixes" flying.
Capt Reitzig, who calls Palm Bach FL his home received his commission April 4, 1974, from the Academy of Military Sciences, Knoxville TN. In May of that year, he began pilot training at Reese AFB, TX. His rated career began whit the 134th Defense Evaluation Squadron. He was assigned to the 318th FIS in 1979 and is an instructor (pilot) in the F-106 and assistant weapons training officer.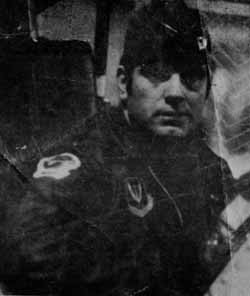 Captain Hal Reitzag in his F-106