WEAPONS LOAD COMPETITION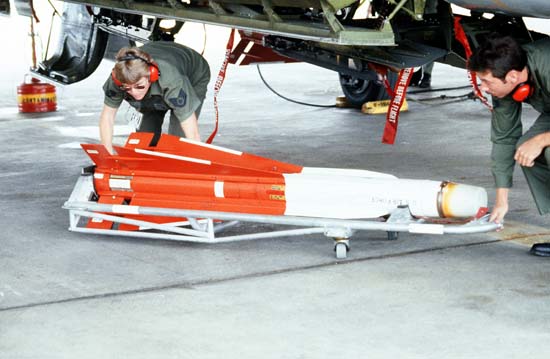 Since the early 50's weapons loading competitions have been a long-standing tradition with crews in the Air Force. These competitions were developed from load crews testing their skills and speed against each other while loading their aircraft for their next missions in the Korean War.
In the U.S. Air Force, the weapons loader career field is one of the only positions that require a monthly evaluation to show the knowledge and proficiency in all weapons loading tasks, with this in mind many units would hold quarterly competitions to promote morale and to increase proficiency, knowledge.
In 1970, the Aerospace Defense Command held its first command wide Weapons Load Competitions to spread the benefits of the local competitions throughout all fighter-interceptor squadrons. Initially, the competition was open for Aerospace Defense Command Active & Guard units but in 1977 the contest added Canadian and Alaskan Air Command units with an air defense mission in NORAD. These yearly competitions would end in 1981; the best load crews from air defense units would continue to be recognized at the William Tell Competition.
318TH AT WEAPONS LOAD COMPETITION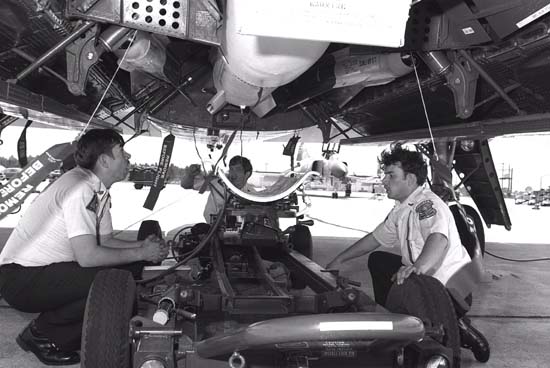 318th FIS Personnel inspect a ATR-2 Genie during the 1978 NORAD Weapons Loading Competition.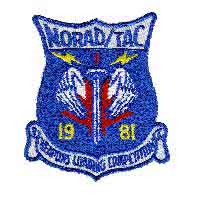 318th FIS Participates
-
TAC holds load competition
B
y TSgt Alan B. Crank,
318 FIS - Northwest Airlifter - September 1981
There will be an Air Defense weapons load competition at Tyndall AFB, Florida, and Sept 14-25. Alaskan Air Command, Tactical Air Command, Air National Guard, and Canadian Air Command units with a NORAD air defense mission have been invited to participate in the competition.
The purpose of this competition is to foster a competitive spirit, give recognition to outstanding load crew performance, promote public understanding and support for strategic air defense, and raise the overall standards of excellence in weapons loading.
Awards will be presented to the first, second, third and fourth place load areas in the F-4 category and to the first and second place in the F-101 aircraft category. The first place winner in each category will be the NORAD Load Crew of the Year for that aircraft type.
A four-man crew from the 318th Fighter Interceptor Squadron has been chosen by way of a local weapons load off between assigned 318th FIS load crews. The four-man team selected to go consists of: TSgt. Alan B. Crank, SSgt. Gerry Romo, Sgt. Kurt A. Reuterdahl, and SrA. Ronald E. Legarde. Each man has a specific amount of tasks to perform to eventually arrive at a common goal of a safe and reliable load with the utmost use of professionalism and integrity.
The load condition required to be loaded by the F-106 load crews consisted of four missiles and one rocket. This will be judged by two or more judges for technical order compliance, safety, security and command directives.
The maximum allowable time is 22 minutes. The load crew of Crank, Romo, Legarde, and Reuterdahl has been practicing loads since early July. As of Aug. 24, the 318th FIS team has completed the load in 17 minutes. This will allow them at least five minutes for extra critical inspections. They have also been working on acquiring new uniforms, building and painting a new load tool box, refurbishing the missile loading and handling frame and missile handling bar. These items of equipment will be inspected by the judges for serviceability and a point value deducted for each discrepancy.
The load crew will be performing two loads each, having a value of 1,000 points, the tools and equipment have a point value of 200 points. Each crewmember will be given an academic exam worth 300 points.
"If everything falls together this week I believe we will be in excellent shape for the competition'" said Romo. Our crew is devoting a lot of free time to this competition" Romo added, "We are going to win first place as there isn't a better F-106 crew anywhere."
We are proud to represent the 318th FIS, 62nd Military Airlift Wing, and the 25th Air Division in this competition and we will be giving our best to the Northwest," said Crank.
William Tell Weapons Load Competition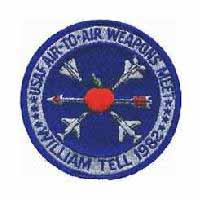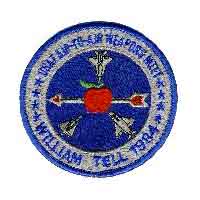 The ADC / NORAD / TAC Weapons Load Competition shared many similaries with the William Tell Weapons Meets Load Competition. Below you will find details for the load competition at 1982 & 1984 William Tell Weapons Meet.
The William Tell Weapons Load Competition is an event involving loaders from each participating team. The competition consisted of two loads, an inspection of the load team's tool kit and a written exam for all team members (not performed after the 1982 competition) for a total of 40,000 points (in the 1982 competition) and 3,500 points (in the 1984 competition).
The top team from each aircraft type is recognized as the Aircraft Category Best Weapons Load Team, the highest scoring team is named as the Top Weapons Load Team.
Weapons Load Teams
The number of team members varies from aircraft to aircraft (with one alternate member), CF-101 teams consisted of five members, four members for F-106, and F-15 teams, F-4 teams would employ three or four members. The alternate, in addition to being allowed to replace an injured or ill primary member, was also able to assist during loads by connecting, disconnecting, and operating support equipment.
Written Exam (1982 - 5,000 points)
A written exam is given to all team members including the alternate to test the loaders' basic knowledge of loading missiles onto their respective aircraft.
Toolbox Inspection (1982 - 5,000 points; 1984 - 500 points)
During the toolbox inspection each tool is checked, each instance of overdue inspection and calibrations or tool unserviceability resulted in a 100 point (1982) or 10 point (1984), while minor problems affecting the servicability of a tool resulted in a 50 point (1982) or 5 point (1984) deduction. As a part of the Toolbox Inspection technical manuals were checked; and, if the team failed to record that required inspections had been performed or if these inspections were found to be outdated or incomplete , a 100 point (1982) or 10 point (1984) deduction was assessed for each noted deviation.
Load Competition (1982 - 15,000 points - each load; 1984 - 1,500 points each load)
Each load started at the time specified in the master schedule for the meet (dependant on weather). Two hours before the scheduled start time, the unit was told where to park its selected team aircraft for the load. The team was responsible for having the aircraft towed to the designated area and repositioning of all load equipment as required to match the specified pre-load configuration. All supplied support equipment is inspected for safety hazards.
With 15 minutes remaining before the scheduled start of the load, the load team forms a single line in front of the right wing of the aircraft, the load crew chief informs the judges that the team is ready for the load and the aircraft and support equipment is ready for inspection. If the judges do not find any outstanding safety hazards, the load is allowed to take place, if the load cannot be completed safely because of the aircraft or support equipment, the load is rescheduled with a penalty assessed to the team for failing to reject the supplied support equipment or providing a defective aircraft.
Following the inspection, any final adjustments to the equipment and aircraft needed for the load are completed by the load crew. At the published start time, the load crew lines up in the front of the aircraft and is briefed by the senior judge and then by the load team crew chief, following the briefing, the load begins.
The loads were timed events, which had to be completed within a specific number of minutes with points deducted from every second taken beyond the category (aircraft) limit, 5 points (1982) & 0.5 points (1984). The load times and missile loads for each category is as follows:
Load Time Limit: 37 minutes (1982) & 35 minutes (1984)
Armament load: (4) AIM-7 Sparrows & (4) AIM-9 Sidewinders
Load Time Limit: 21 minutes (1982)
Armament load: (2) AIM-4D Falcons & (2) ATR-2A Genies
Load Time Limit: 21 minutes (1982) & 20 minutes (1984)
Armament load: (2) AIM-4F Falcon, (2) AIM-4G Falcon & (1) ATR-2A Genie
Load Time Limit: 37 minutes (1982) & 30 minutes (1984)
Armament load: (4) AIM-7 Sparrows & (4) AIM-9 Sidewinders
Each team completes two loads, both worth 15,000 points (1982) & 1,500 points (1984), with team errors counted as points deducted that point total. The largest load penalty was a failure to comply with a technical order warning; if this occurred, the load was stopped and all points were lost for the particular load. Other penalties range from major to minor, point deductions are as follows:
100 points (1982) & 10 points (1984) per incident - not limited to but include:
- Improper tool or support equipment operation or minor technical data or rules violations.
500 points (1982) & 50 points (1984) per incident - not limited to but include:
- More serious flight or ground safety violations, failure to reject equipment, and instances of unjustified equipment rejection.
1,000 points (1982) & 100 points (1984) per incident - not limited to but include:
- Serious technical order violations along with errors, which could have prevented proper launch of a missile or caused an aborted mission.
2,500 points (1982) & 200 points (1984) per incident - not limited to but include:
- Injury of personnel during load or damage to an aircraft, missile, support equipment, or errors effecting the safety or operation of the nuclear store (ATR-2 Genie).
After a team completes the load, and fills out all required forms and the aircrafts armament placard the crew returns to the front of the aircraft, and the load crew chief informs the judges that the load is complete. At this point, the timing for the load is stopped unless there is a failure to complete a required task. The judges, each accompanied by a team member, then performed a post-load inspection of cockpit switches, loaded weapons, and load checklist.