GREEN DRAGON EMBLEM
"DRAGO"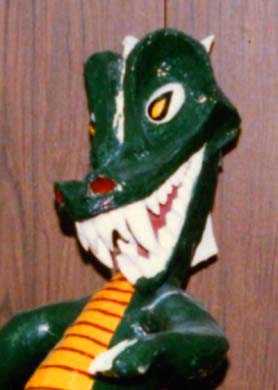 squadron mascot
(1957 - 1989)
drago - the beginning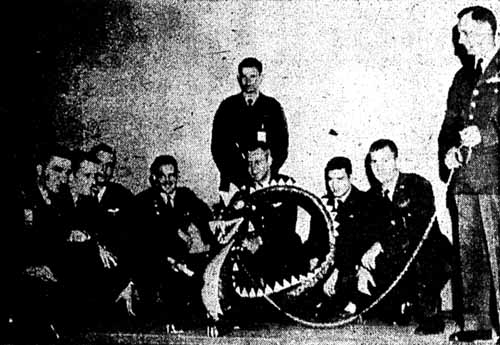 x
Drago with the members of 318 FIS Flight "C", March 1957
A depiction of the squadron insignia of the 318th Fighter Interceptor Squadron has come to life in the form of a dragon the be the mascot of the squadron and has been dubbed "Drago" and the pilots who make up "C" Flight of the squadron are shown above with Major William a. Clair, Executive Officer of the 318th, holding the leash.
"Drago" was made up by the members of Flight "C" as a flight project. His residence is the 318th operations building and will soon accompany the squadron to Yuma, Arizona, to watch over the F-102 checkout program.
x
FROM "THE DEFENDER" NEWSPAPER - FRIDAY 8 MARCH 1957
DRAGO's FIRST DEPLOYMENT
X
Drago is seen superimposed over F-102's from the 318th FIS before their deployment to Arizona. The caption under the photo above, from McChord's news paper "The Defender" March 15, 1957 edition read "Under the watchful eye of "Drago the Dragon" menacing mascot of the 318th FIS. Lt. Colonel Charles Carson, Commander, goes over flight plans with his wingmen, Major Chester Reese (center) and Captain Gene Rogge (right) just prior to a Yuma departure. The F-102 behind them display the 318th tail insignia. The squadron is currently going through transition training at the Arizona air base, accompanied, of course by Drago".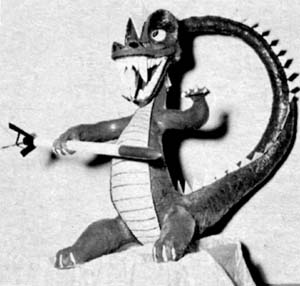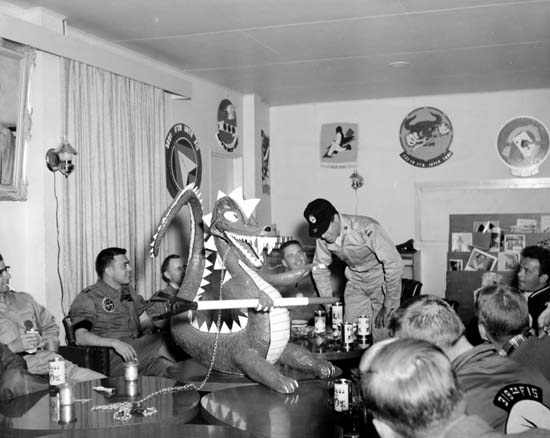 Legendary comedian/actor Jerry Lewis takes attention away from "Drago" after the filming of the squadrons cameo in Lewis' movie "Sad Sack". The scene was filmed during the 318ths transition training deployment at Vincent AFB, AZ
BEHIND THE CONTROLS OF THE xf-1001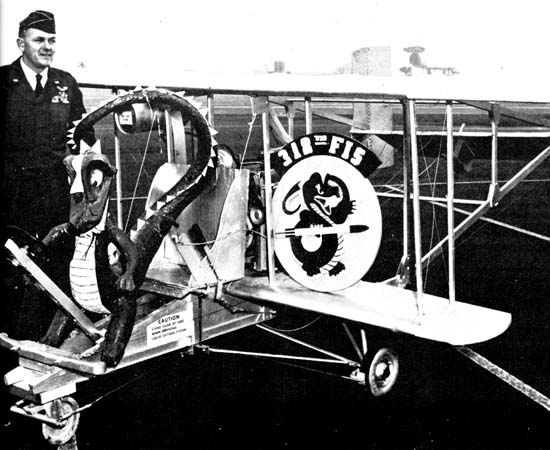 x
Under the watchful eye of Lt. Col Howard S. Askelson 318th FIS Commander (June 20, 1962 - June 11, 1965) Drago is at the controls of the 318ths XF-1001 Flyer, a bi-plane created by members of the 318th in the 60's. Shortly after this picture was taken the XF-1001 was "lost" to another fighter squadron after a nighttime "raid" on McChord, 10 years later, it was returned to the squadron.
"The great Eighties"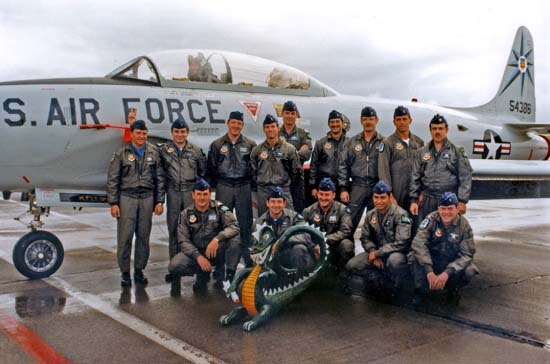 © Mark Estabrook. All rights reserved
In late 1983, T-33 pilots of the 318th pose with Drago and one of their aircraft in the background. Upon joining the squadron in 1983, the then Lt. Mark Estabrook (2nd from the left back row) was in charge of a giving Drago a overhaul.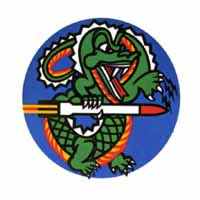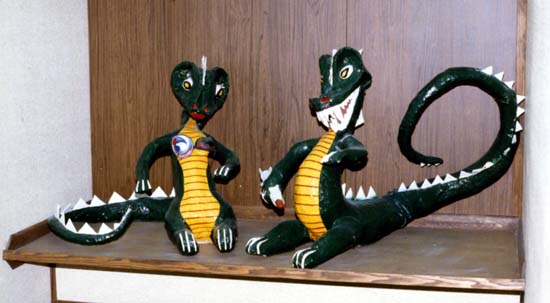 x
In his "den" in the 318th Operations Building in the mid 80's, Drago spends a quiet moment with his female friend.