THE F-89 ERA (1954 - 1955)
PICTURE FROM "USAF INTERCEPTORS" BY MARTY J. ISHAM & DAVID R. McCLAREN
On static display at during Armed Forces Day at Syracuse NY , F-89D 52-1955 wears red arctic markings intended to help find aircraft that crash in snow covered environments.
In the mid 50ís, an effort was undertaken to replace F-94ís with the Northrop F-89 Scorpionsí deployed at bases in the northern reaches of the continent, including the Starfires of the 318th. In the summer of 1954, the 318th began a "station swap" with the 74th FIS "Flying Tigers" at Presque Island, ME completing the move in August. Shortly arriving at Presque, the squadron would begin a transfer out to their trusty, but tired F-94's and move into the more modern F-89 Scorpion.
Another Presque squadron, the 57th FIS "Black Knights", began a conversion from the F-89C to factory fresh "D" models before a scheduled swapping of stations with the F-94 equipped 82nd FIS at Keflavik Airport, Iceland. Before the completion of the 57ths upgrade to the F-89D, it was decided by ADC Headquarters that the Black Knights would transfer to Keflavik keeping their more familiar F-89C. Both squadrons at Presque (82nd & 318th) would benefit from this decision, gaining F-89D's from the 57th FIS and brand new aircraft straight from Northrop factory.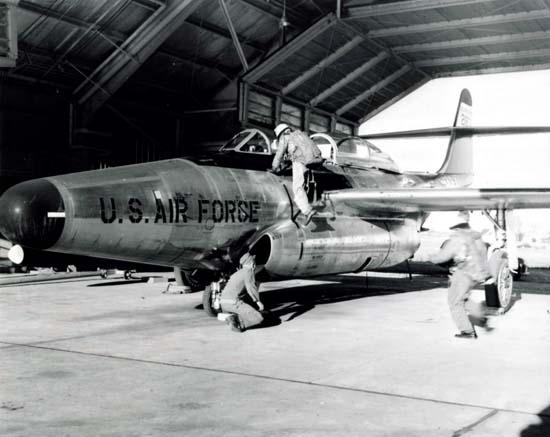 USAF
Alert crews race to prepare 318th FIS F-89D 52-1871 for flight. The F-89 Scorpion was the first and only aircraft to fire a live MB-2 Genie nuclear rocket.
As the first aircraft designed to carry an all-rocket armament (one type being the nuclear MB-2 (AIR-2) Genie, the F-89 flew for the first time 16 August 1948 after a long development period. On July 19, 1957, an F-89J (a modified F-89D) fired a live Genie rocket with a nuclear warhead, during the Operation Plumb Bob nuclear tests over the Nevada test range, this was the first and only launch of a air-to-air rocket with a live nuclear warhead.
Next page: The F-86 Era (1955 - 1956)