_

354 FIGHTER SQUADRON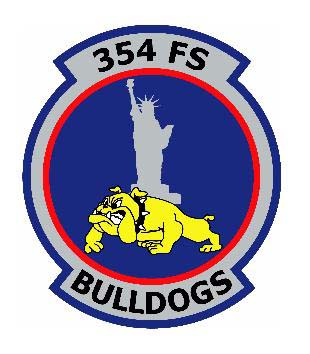 HISTORY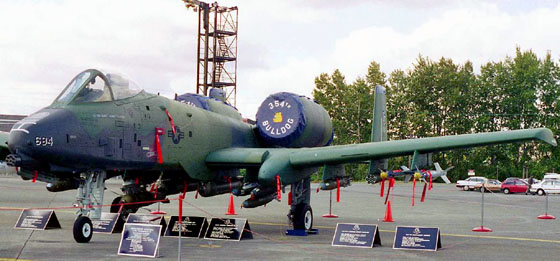 The 354th Fighter Squadron "Bulldogs" activated on November 12, 1942, as part of the 355th Fighter Group based in Orlando Army Air Field, FL flying the P-40 Warhawk. As the 354th and its sister squadrons (357th and 358th) gained additional personnel, they feverously trained in the Curtiss P-40 Warhawk for eventual combat overseas.
In February 1943, the group was declared combat ready and prepared for movement with a new aircraft, the Republic P-47 Thunderbolt. Pilots and crews of the 354th carried out training during the Group's move to various bases up the East Coast. With P-47 upgrade training complete, squadrons of the 355th FG departed for England on June 16 arriving at RAF Steeple Morden, England, in July 1943.
Republic P-47D Thunderbolt 42-28434 Miss Behave / Li'l Lolown by Capt Henry Kucheman, 354th FS, 355th FG, England, 1943
At Steeple Morden, the Groups primary mission was escorting bombers attacking industrial areas in Germany. The group also flew fighter sweeps, area patrols, and bombing missions, striking such targets as airfields, locomotives, bridges, radio stations, and armored cars. From September 1943 to April 1945, the 354th supported the Allied advances in European offensive in the Republic P-47 Thunderbolt and later, the North American P-51 Mustang. It was in 1944 the Group quickly gained acclaim as the "Steeple Morden Strafers," a nickname derived from the units base and its lethal accuracy at low-level attacks. The Group also provided fighter cover for Allied forces during the landing in Normandy.
The Bulldogs remained in combat until the German Capitulation in May 1945 moving from England to various Occupation airfields in Germany as part of the United States Air Forces in Europe Army of Occupation and moved to Gablinger, Germany. At War's end, the squadron returned to the United States by April 1946 it later demobilized and inactivated on November 20, 1946.
P-51B 42-106950 was originally named "Man O' War" and later "The Iowa Beaut" .
On November 1, 1952, the 354th was reactivated under the Air Defense Command (ADC) at Long Beach Municipal Airport, CA replacing the 188th Fighter Interceptor Squadron of the New Mexico Air National Guard at Long Beach. With this reactivation, the 354th reacquainting itself with its wartime mount the North American F-51.
In December of 1952, the Bulldogs, with their Mustangs moved to Oxnard AFB, CA. In March of 1953, the 354th participated in the USAF's first Aerial Gunnery Meet (forerunner to the William Tell Weapons Meet). Competing against the Air Forces top jet fighters of the day, Bulldog F-51's captured the top spot in the competition, proving that there was still some life left in the old fighter!
In June of 1953, the squadron transitioned out of their trusty Mustangs into the squadron's first jet aircraft, Lockheed F-94C Starfire at their California base. In their new jets, the Bulldogs continued to defend the States Southern Coast with a weapon more suited for their mission.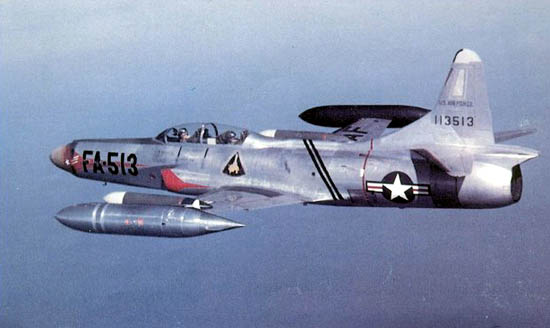 A F-94C Starfire of the 354th FIS, in mid-1955.
In an effort to reactivate and realign historically significant units within the Command, the ADC implemented a program named "Project Arrow". Because of Project Arrow, the personnel, and F-86D's flying with 460th FIS based at McGee-Tyson AFB TN would be reflagged as the 354th FIS under the 355th Fighter Group. In late 1957, the squadron a been advised of their impending inactivation, within few months the squadron was no more. The 354th Bulldogs were again inactivated on January 8, 1958.
The "Bulldogs" reactivated in April 1962, at George AFB, CA as the 354th Tactical Fighter Squadron as part of the 355th Tactical Fighter Wing. While at George, the squadron operated the Republic F-105 Thunderchief conducting combat operations from bases in Alaska and Turkey. In October 1964, the unit moved to McConnell AFB, KS and flew combat missions from Kadena Air Base, Japan, and Korat, Thailand.
The squadron ended its temporary deployments to Thailand and permanently relocated to Takhli RTAFB in November 1965 to participate in significant operations in Southeast Asia in a mission named "Rolling Thunder".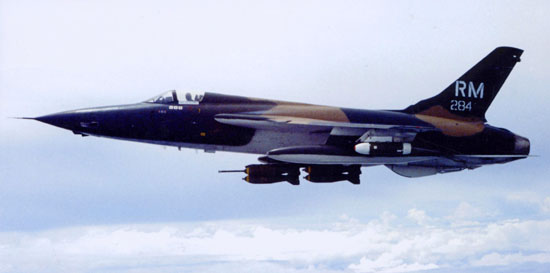 Triple MiG Killer F-105D 62-4284 is pictured fully loaded for its next mission in the skies in Southeast Asia.
In the first month of flying, the 354th and the 357th TFS "Dragons" completed over 400 combat sorties during the first month. These dangerous missions, some seeking out and destroying SAM sites (in the "Wild Weasel" mission), proved to be costly for the squadron, during 1966 experienced more losses than any other squadron in SEA. In one two month period, the 354th lost almost 40% its assigned pilot's squadrons.
The Bulldogs continued flying missions in Rolling Thunder until inclement weather reduced flying over North Vietnam in the latter part of 1968.
In April 1971, the 354th returned to the United States under the command of the 355th Tactical Fighter Wing at Davis Monthan AFB. At this base, the unit prepared for a conversion to the Air Forces newest close air support aircraft, Vought A-7D Corsair II. Less than two years later, the Bulldogs would return to combat, this time in the A-7 flying out of Korat RTAFB under the command of the 354th Tactical Fighter Wing.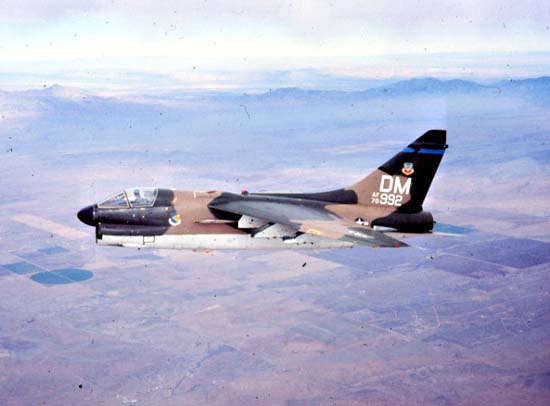 A-7D 70-0992 is pictured in its 354 TFS colors over Arizona.
On July 5, 1973, the Bulldogs returned to Davis Monthan and the 355th. For their combat actions in the Vietnam War, the 354th received five Presidential Unit Citations and three Air Force Outstanding Unit Awards with the combat "V" device, and one Metal of Honor recipient, pilot Major Merlyn H. Dethlefsen who received the Nation's highest honor for his actions in an on Wild Weasel mission on March 10, 1967.
The 354th continued in USAF A-7 training operations until the 355th Tactical Training Wing conversion from the Corsair into the Fairchild Republic A-10 Thunderbolt II. While the other squadrons under the 355th TFTW moved on to the A-10 the 354th didn't follow. The Bulldogs remained as a "paper Squadron", active without personnel or aircraft until their deactivation in 1982.
In November 1991, squadron was reactivated at Davis Monthan with the 602nd Air Control Wing (a forward air control unit) as the 354th Fighter Squadron flying the Republic OA-10 Thunderbolt II, replacing the 23rd Tactical Air Support Squadron. On January 4, 1993, the 354th Fighter Squadron was deactivated at Davis Monthan for a move to a new home at McChord AFB.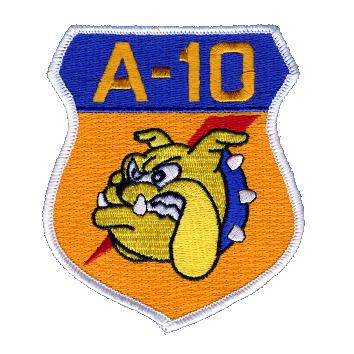 At McChord AFB, a search for a mission to fill the void created after force reductions at the Base in the late 80s and early 90s was underway. With a major Army Post (Ft. Lewis) along the perimeter of the Base, the A-10 and its close air support mission was found to be a good fit. Initially, the A-10 squadron proposed for McChord was to fall under the control of the Air National Guard, in the later planning stages a switch to an active duty squadron was made.
After the formal approval of the in 1992, the 355th FW established a detachment (the 355th OLGG) to manage the activation of the squadron. In mid 1992, people and planes began to stream into McChord with the first 20 personnel arriving in May and the first 4 aircraft arriving in October, by the end of the month, 355th OLGG Commander Lt Col. Danny Clifton commanded a flight of two A-10's for the unit's first local area orientation sortie.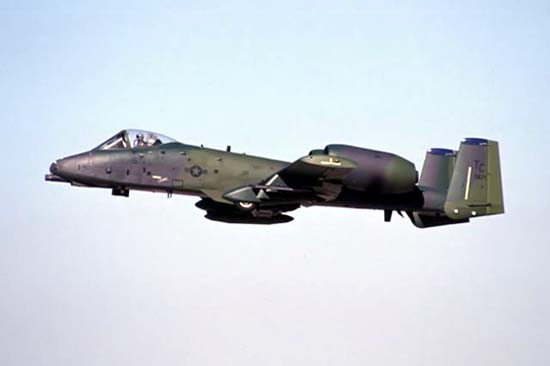 A-10A 78-0671 from 354th FS with its "TC" tailcode takes off in the early 90's.
On January 5 1993, the 354th Fighter Squadron "Bulldogs" activated at McChord AFB as a geographical separated unit from its parent Wing, the 355th Fighter Wing at Davis-Monthan, AZ. With 26 aircraft (twelve A-10s, nine OA-10 and five back-up aircraft) with a mission to " Deploy, employ, support, and sustain attack airpower in support of Combatant Commanders anywhere in the world at a moment's notice" the Bulldogs were also tasked to support the troops at Fort Lewis, WA and the Yakima Training Center in Eastern Washington State.
During their time at McChord, the 354th was one of the USAF's most deployed Squadrons flew more than 15,000 sorties during 11 deployments to operations and exercises in Argentina, Chile, Italy, Japan, Turkey, and the Persian Gulf.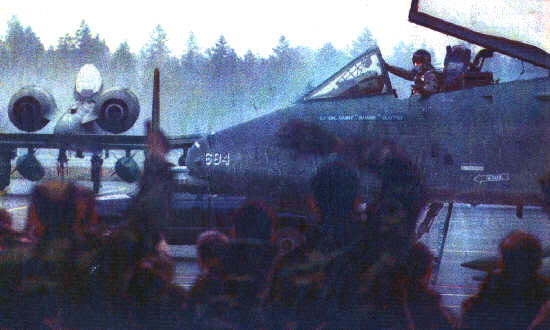 Squadron Commander Lt Col Danny "Maddog" Clifton waves farewell to the remaining members of the 354th FS "Bulldogs" as he taxis his A-10A, s/n 76-0684 on his way to Davis Monthan AFB AZ after the squadrons deactivation at McChord.
On May 27, 1993 Air Combat Command Headquarters announced its intensions to converted and realigned the 347th Fighter Wing into an air/land composite wing (347th Wing) consisting of C-130's F-16s and A-10's. To form the 374 WG's A-10 squadron, the 354th would be sacrificed. On October 1, 1994, the squadron was inactivated at McChord and reactivated at Davis-Monthan AFB, AZ replacing the 333rd Fighter Squadron.
On December 14, 1994, the last five Bulldog A-10's left Washington State for the last time headed to their new assignments in at Davis Monthan. Before boarding his "Hog", 354th Commander Lt. Col. Danny Clifton summed up the Bulldog era at McChord in a few words "The squadron did almost everything it set out to do at McChord; the one goal we did not accomplish was to stay here forever".
LINAGE & HONORS
Lineage - Constituted as 354 Fighter Squadron, and activated, on 12 Nov 1942. Redesignated as 354 Fighter Squadron, Single Engine, on 21 Aug 1944. Inactivated on 20 Nov 1946. Redesignated as 354 Fighter-Interceptor Squadron on 11 Sep 1952. Activated on 1 Nov 1952. Inactivated on 8 Jan 1958. Redesignated as 354 Tactical Fighter Squadron, and activated, on 13 Apr 1962. Organized on 25 Apr 1962. Redesignated as 354 Tactical Fighter Training Squadron on 1 Apr 1979. Inactivated on 30 Apr 1982. Redesignated as 354 Fighter Squadron, and activated, on 1 Nov 1991.
Assignments - 355 Fighter Group, 12 Nov 1942-20 Nov 1946. 27 Air Division, 1 Nov 1952; 533 Air Defense Group, 16 Feb 1953; 355 Fighter Group, 18 Aug 1955-8 Jan 1958. Tactical Air Command, 13 Apr 1962; 831 Air Division, 25 Apr 1962; 355 Tactical Fighter Wing, 8 Jul 1962; Thirteenth Air Force, 10 Dec 1970; 4453 Combat Crew Training Wing, 1 Apr 1971; 355 Tactical Fighter (later, 355 Tactical Training) Wing, 1 Jul 1971-30 Apr 1982. 602 Air Control Wing, 1 Nov 1991; 355 Operations Group, 1 May 1992-.
Stations - Orlando, FL, 12 Nov 1942; Zephyrhills, FL, 30 Jan 1943; Orlando, FL, 13 Feb 1943; Norfolk Muni Aprt, VA, 18 Feb 1943; Philadelphia Muni Aprt, PA, 4 Mar 1943; Millville, NJ, 5 May 1943; Philadelphia Muni Aprt, PA, 27 May-16 Jun 1943; Steeple Morden, England, 6 Jul 1943; Gablingen, Germany, 17 Jul 1945; Schweinfurt, Germany, 15 Apr-1 Aug 1946; Mitchel Fld, NY, 1 Aug-20 Nov 1946. Long Beach Muni Aprt, CA, 1 Nov 1952; Oxnard AFB, CA, 16 Dec 1952 (operated from Moody AFB, GA, 8 May-10 Jun 1955); McGhee-Tyson Aprt, TN, 18 Aug 1955-8 Jan 1958. George AFB, CA, 25 Apr 1962 (operated from Eielson AFB, AK, 24 Jan-14 Feb 1964, and from Incirlik AB,Turkey, 5 May-18 Sep 1964); McConnell AFB, KS, 15 Oct 1964-27 Nov 1965 (deployed at Kadena AB, Okinawa, and then Korat RTAFB, Thailand, 6 Mar-18 Jun 1965); Takhli RTAFB, Thailand, 28 Nov 1965-15 Oct 1970; Davis-Monthan AFB, AZ, 15 Oct 1970-30 Apr 1982 (deployed at Korat RTAFB, Thailand, 14 Jan-4 Jul 1973). Davis-Monthan AFB, AZ, 1 Nov 1991; McChord AFB, WA, 5 Jan 1993; Davis-Monthan AFB, AZ, 1 Oct 1994-.
Aircraft - P-47, 1943-1944; P-51, 1944-1946. F-51, 1952-1953; F-94, 1953-1955; F-86, 1955-1957. F-105, 1962-1970; A-7, 1971-1979; A-10, 1979-1982. AO-10, 1991-.
Operations - Combat in the European Theater of Operations (ETO), 14 Sep 1943-25 Apr 1945. Combat in Southeast Asia, 13 Mar-12 Jun 1965; 28 Nov 1965-7 Oct 1970; c. 14 Jan-3 Jul 1973. Combat crew training, 1971-1982 and forward air control training, 1991-. Performed close air support, air interdiction, and combat search and rescue missions in support of combined Army and Air Force units worldwide, 2000-.
Service Streamers - None.
Campaign Streamers - World War II: Air Offensive, Europe; Normandy; Northern France; Rhineland; Ardennes-Alsace; Central Europe; Air Combat, EAME Theater. Vietnam: Vietnam Defensive; Vietnam Air; Vietnam Air Offensive; Vietnam Air Offensive, Phase II; Vietnam Air Offensive, Phase III; Vietnam Air/Ground; Vietnam Air Offensive, Phase IV; TET 69/Counteroffensive; Vietnam Summer/Fall, 1969; Vietnam Winter-Spring, 1970; Sanctuary Counter-offensive; Southwest Monsoon; Vietnam Ceasefire. Southwest Asia: Ceasefire.
Armed Forces Expeditionary Streamers - None.
Decorations - Distinguished Unit Citation: Germany, 5 Apr 1944. Presidential Unit Citations (Southeast Asia): 5 May-17 Jun 1965; 1 Jan-10 Oct 1966; 11-12 Aug 1967 and 24-28 Oct 1967; 12 Apr 1968-30 Apr 1969; and 10 Oct 1972-30 Apr 1973. Air Force Outstanding Unit Awards with Combat "V" Device: 12 Oct 1966-11 Apr 1967; 12 Apr 1967-11 Apr 1968; 1 Jul 1969-15 Oct 1970; 1 Jun-31 Aug 1999. Air Force Outstanding Unit Awards: 1 Jul 1956-30 Jun 1957; 1 Jul 1971-11 Jan 1973; 1 Oct 1976-31 May 1978; 1 May 1990-30 Apr 1992; 1 Jun 1995-31 May 1997; 1 Jun 1998-31 May 2000; 1 Jun 2002-31 May 2004; 1 Jun 2004-31 May 2006; 1 Jun 2007-31 May 2009. Republic of Vietnam Gallantry Cross with Palm: 1 Apr 1966-28 Jan 1973.
ASSIGNED AIRCRAFT
Please email
greendragonsden@yahoo.com
with any additions to the lists below.
A-10A / OA-10A
CLOSE AIR SUPPORT (CAS) / FORWARD AIR CONTROL (FAC)
78-0651
78-0652
78-0671
.

78-0684

.
78-0685
78-0690
78-0706
79-0177
79-0188
79-0201
79-0215
80-0142
80-0151
80-0164
80-0165
80-0186
80-0224
80-0246
82-0658
82-0662
82-0663
GA-10A
GROUND INSTRUCTIONAL TRAINERS
75-0270
75-0274