MISCELLANEOUS INFO
318TH IN THE NEWS
THE CRASH OF MAJ Clyde FALLS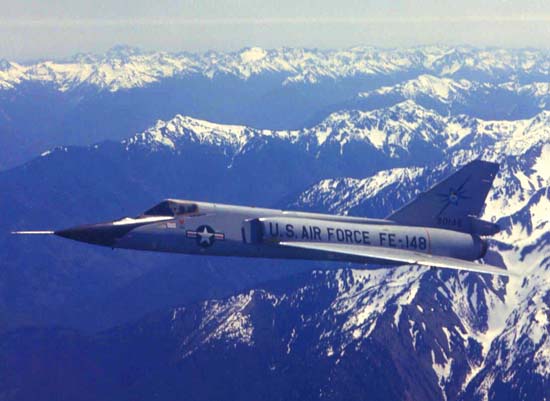 PHOTO FROM "Erv Smalley's & Marty Isham's Convair F-106 Delta Dart
"
www.convairf-106deltadart.com/
The aircraft involved in the crash, s/n 59-0148 was the last of 340 F-106's built for the USAF, it was accepted in November of 1960, and delivered to its first squadron, the 456th FIS on 07 February 1961. The F-106 arrived at McChord on 22 May 1963.
See the Major Clyde L Falls Jr. page (in the Personnel) for additional information.
Searchers Find Jet Pilot's Body
Tacoma News Tribune - Wednesday April 23, 1969
McCHORD AIR FORCE BASE - The body of Maj Clyde Falls Jr. a highly decorated McChord pilot who died Tuesday in a crash of his jet fighter was recovered at mid morning Wednesday by searchers who had remained in the area overnight.
The body was brought out by helicopter to McChord, according to McChord officials/ four men including a doctor, who spent the night at the site, were returned to McChord at the same time, officials said.
The F-106 Delta Dart (59-0148) was found Tuesday afternoon about three hours after it "slammed into the side of Huckleberry Mountain some 10 miles southwest of Eatonville (WA) near the Snoqualmie Forest.
A Coast Guard helicopter crewman and Pierce County Sherriff's deputy waded through the deep snow to reach the side of the crash after the helicopter landed atop the peak.
The searchers said wreckage from the single seat jet was spread over a wide area but the fuselage of the plane was mostly intact.
Falls, who earned the Silver Star Metal for valor while flying fighter raids against North Vietnam, was still in the cockpit, they said. Bad weather and approaching darkness Tuesday forced postponement of recovery efforts.
Falls was on a routine training flight when the crash occurred, McChord officials said. They said the veteran pilot had made one landing approach run and was making a second approach when disappeared from base radar screens.
The wreckage was found at the 3,400-foot level on Bald Mountain, an outcropping on the larger Huckleberry Mountain.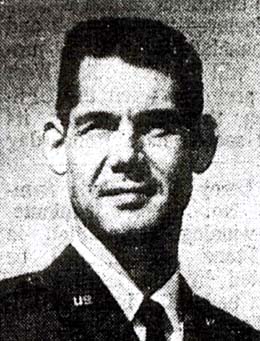 Major Clyde Falls
FATAL IRONY RECALLED

Pilot was Survivor of many a Skirmish.
By Al Gibbs - Tacoma News Tribune - - Wednesday - 23 April 1969
McCHORD AIR FORCE BASE - Last November, the statement made since. "The insurance rates are a lot better here," Maj. Clyde L. Falls said grinning.
The Major had survived a year of fighter bomber strikes against North Vietnamese bases and had settled down to a comfortable three-year tour flying F-106 jet interceptors here (at McChord). Tuesday, Maj Clyde L. Falls Jr. died when his Delta Dart crashed into a mountain near Eatonville and his comment made during an interview with this reporter, became fatal irony.
MUCH DECORATED
Maj Falls was relaxed last November. He just received the Silver Star, the nation's third highest award for combat valor, and 4 Distinguish Flying Crosses, and 15 Air Metals. In a month or so, he would be married.
The metals earned dodging flak and missiles and Communist MiG jets during raids against bases deep in North Vietnam. Most missions he flew as a part of a strike protection force charged with knocking out anti-aircraft batteries in advance of the main bombing group.
"It's a pretty simple technique really" Falls said at the time "You put yourself out as bait and let them shoot at you. When you shoot back, you know where the target is."
Nearly 50 fellow pilots from Falls' wing were shot down during his tour
FLAK 'IRRITATED'
On one raid, exploding flak peppered his F-105 jet. "It irritated me a little bit," he said.
Maj Falls continued to attack the target, however, with flak holes in the metal skin and plexiglass windshield of his jet. His plane was damaged twice more during the raids. He was credited with knocking out two antiaircraft batteries despite the damage. He destroyed two MiGs (on the ground) and enemy barracks, and heavily damaged a railway yard and railroad bridge.
HELP FOR A BUDDY
On one mission he made his attack then returned to help a downed American pilot.
The Major was the fourth McChord fighter pilot to die in crashes in the past 1 1/2 years. Last April, two officers (Col. Wilfred B. Crutchfield and Lt. Col. Ivan E. O'Dell) were killed when their jet (T-33A s/n 56-3664) crashed into the side of Mt. Rainier. And in October 1967, an F-106 pilot (Maj Richard S. Petersen in F-106 s/n 59-0022) died in a crash near Raymond.
The Air Force will convene an accident review board to investigate Falls' crash to discover why the survivor of a year enemy fire crashed when nobody was shooting.