PERSONNEL
ACES OF THE 318TH FIGHTER SQUADRON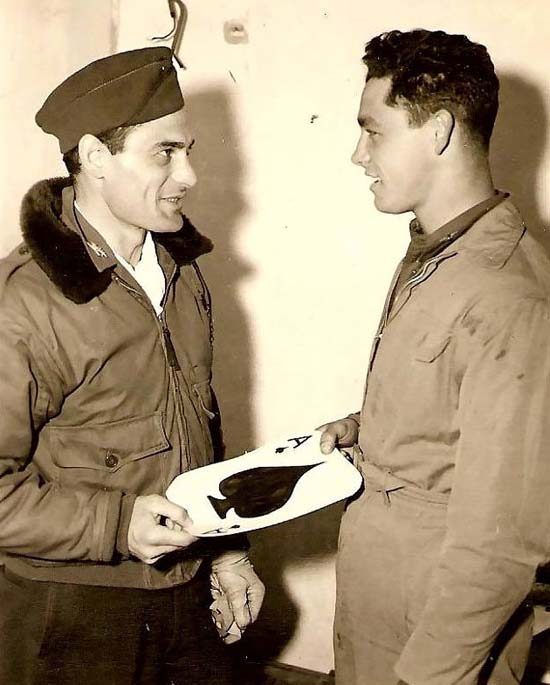 Photo from http://www.ace1945.com
325th Fighter Group Commander Lt. Col Felix Vidal presents a customary "Ace" to Lt Gordon "Mac" McDaniel. McDaniel downed 5 aircraft on one mission.
A flying ace is a military aviator who has shot down five or more enemy aircraft. Use of the term "ace" to describe these pilots began in World War I, when French newspapers described Adolphe Pégoud, as l'as (French for "Ace") after he became the first pilot to down five German aircraft.
During World War II, 71 318th Fighter Squadron pilots scored 175 aerial victories, of those pilots, 8 achieved "Ace" status while with the Squadron, downing 56 aircraft.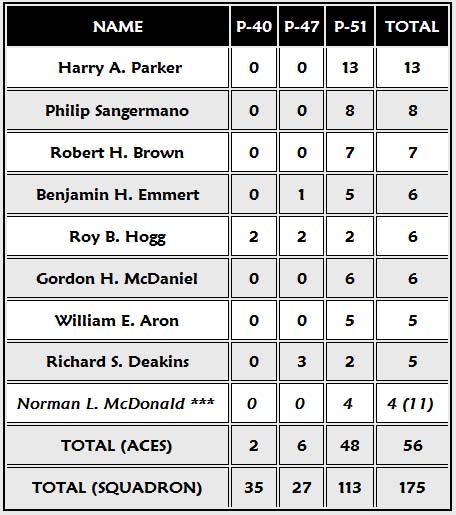 ***Lt Col. Norman L. McDonald, 318th FS Commander (24 November 1944 - 05 June 1945) became an Ace while assigned to the 52nd Fighter Group in England with 7 victories and added 4 additional victories making him a double Ace.