BRIGADIER GENERAL DUANE W. DEAL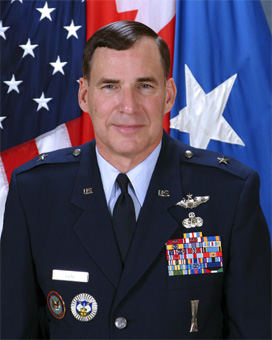 F-106 PILOT
Quality Assurance Officer
Job Control Officer
Interim Detachment Commander
(198? - 1983)
BIOGRAPHY
Brig. Gen. Duane W. Deal entered the Air Force in 1976 as a distinguished graduate of the Air Force ROTC program. He has served as a senior pilot with more than 2,200 flying hours in seven aircraft types, including the SR-71 Blackbird in which he flew worldwide operational missions. The general served as a logistics officer commanding three maintenance squadrons, one of which won "Best in the Air Force" honors, and one squadron in the Persian Gulf theater. He also served as Deputy Commander for Logistics for a provisional wing operating from a forward-deployed location providing support for the Persian Gulf theater in the first Gulf War.
General Deal has commanded a space operations squadron, a logistics group, and three Air Force wings. Under his tenure, the 21st Space Wing was named the best wing in the Air Force Space Command. Having been a president or member of a dozen aircraft and space launch accident investigations, he served as a member of the Columbia Accident Investigation Board, convened hours after the loss of the space shuttle on Feb. 1, 2003. The general has more than 25 published articles on aviation, leadership and technical subjects.
General Deal's last assignment was Commander, Cheyenne Mountain Operations Center, Cheyenne Mountain Air Station, Colo. He is responsible for executing the North American Aerospace Defense Command's integrated tactical warning and attack assessment mission, the U.S. Northern Command's homeland defense mission, and U.S. Strategic Command's space and missile warning support.
He retired from the Air Force on 01 September 2005.
EDUCATION
1975 Bachelor of Science degree in physics, with distinction, Mississippi State University
1976 Master of Science degree in counseling and psychology, highest distinction, Mississippi State University
1976 Squadron Officer School, by correspondence
1979 Master of Science degree in systems management, summa cum laude, University of Southern California
1982 Marine Corps Command and Staff College, by correspondence
1988 National Security Management Course, by correspondence
1989 Distinguished graduate, Air Command and Staff College, Maxwell AFB, Ala.
1992 RAND Research Fellowship, Santa Monica, Calif.
1992 Outstanding graduate, Air War College, by seminar
1995 National Defense Fellow, Center for International Affairs, Harvard University, Cambridge, Mass.
1999 Tuck Executive Program, Dartmouth College, Hanover, N.H.
2004 Program for Senior Executives in National and International Security, John F. Kennedy School of Government, Harvard University, Boston, Mass.
ASSIGNMENTS
1. May 1976 - April 1977, student, undergraduate pilot training, Columbus AFB, Miss.
2. April 1977 - October 1979, B-57, EB-57 and T-33 pilot, assistant quality control officer and aide-de-camp to the 24th North American Aerospace Defense Region Commander, Malmstrom AFB, Mont.
3. October 1979 - October 1982, quality assurance officer, job control officer and interim detachment commander, McChord AFB, Wash., and F-106 and T-33 pilot, Tyndall AFB, Fla., and McChord AFB
4. October 1982 - November 1983, logistics programs monitor, Air Staff Training Program, Directorate of Maintenance and Supply, Headquarters U.S. Air Force, Washington, D.C.
5. November 1983 - June 1986, SR-71 and T-38 pilot, 4029th Strategic Reconnaissance Training Squadron, later, 1st Strategic Reconnaissance Squadron, Beale AFB, Calif.
6. June 1986 - May 1987, executive and protocol officer, 9th Strategic Reconnaissance Wing, Beale AFB, Calif.
7. May 1987 - July 1988, Commander, 9th Avionics Maintenance Squadron, Beale AFB, Calif.
8. July 1988 - July 1989, student, Air Command and Staff College, Maxwell AFB, Ala.
9. July 1989 - August 1991, Commander, 319th Field Maintenance Squadron, Grand Forks AFB, N.D. (October 1990 - January 1991, Commander, 1706th Consolidated Aircraft Maintenance Squadron, and Deputy Commander for Logistics, 1706th Air Refueling Wing (Provisional), Persian Gulf)
10. August 1991 - July 1992, Air Force Research Fellow, RAND Corp., Santa Monica, Calif.
11. July 1992 - July 1994, Director, Command Action Group, Air Training Command, later, Air Education and Training Command, Randolph AFB, Texas
12. July 1994 - July 1995, National Defense Fellow, Center for International Affairs, Harvard University, Cambridge, Mass.
1
3. July 1995 - May 1996, Commander, 2nd Space Warning Squadron, Buckley ANGB, Colo.
14. June 1996 - January 1998, Commander, 21st Logistics Group, Peterson AFB, Colo.
15. January 1998 - May 2000, Commander, 11th Wing, Bolling AFB, Washington, D.C.
16. May 2000 - May 2002, Commander, Air Force Recruiting Service, Headquarters AETC, Randolph AFB, Texas
17. May 2002 - March 2004, Commander, 21st Space Wing, Peterson AFB, Colo.
18. March 2004 - Sept 2005, Commander, Cheyenne Mountain Operations Center, Cheyenne Mountain Air Station, Colo.
BADGES
Senior Pilot Badge
Parachutist Badge
Master Space Operations Badge
Master Maintenance and Munitions Badge
Missile Maintenance Badge
MAJOR AWARDS AND DECORATIONS
Defense Superior Service Medal
Legion of Merit with two oak leaf clusters
Meritorious Service Medal with three oak leaf clusters
Air Medal with oak leaf cluster
Combat Readiness Medal
Air Force Recognition Ribbon
Southwest Asia Service Medal with bronze star
Humanitarian Service Medal
Military Outstanding Volunteer Service Medal
OTHER ACHIEVEMENTS
1989 Wright Brothers Squadron Officership Award, Air Command and Staff College
1990 Air Force Maintenance Effectiveness Award
1995 and 1996 General Seth J. McKee Award
1996 "Top Gun" Space Operations Unit winner, Guardian Challenge '96, Air Force Space Command
1997 and 1998 General Thomas Gerrity Award, AFSPC
1999 Will Tubbs Trophy for "Best Ground Safety Program in the Air Force"
1999 and 2000 Secretary of the Air Force Safety Award
2001 Ground Safety Award, Air Education and Training Command
2001 Verne Orr Award, AETC
2003 General Robert T. Herres Award, Air Force Space Command
2003 NASA Group Achievement Award for Columbia Accident Investigation Board
2004 General Thomas D. White Space Trophy, Air Force Association
2005 NASA Exceptional Service Medal
OPERATIONAL INFORMATION
Weapons systems: B-57, EB-57, AT-33, F-101, F-106, T-38, SR-71
Defense Support Program Satellite Crew Commander, Space Control Center Crew Commander, and Cheyenne Mountain Operations Center Command Director
EFFECTIVE DATES OF PROMOTION
Second Lieutenant April 13, 1976
First Lieutenant Dec. 4, 1977
Captain Dec. 4, 1979
Major Feb. 1, 1987
Lieutenant Colonel July 1, 1991
Colonel Feb. 1, 1995
Brigadier General Aug. 1, 2001
Current as of July 2005
DET-1 318 FIS COMMANDER

Gathering ADDITIONAL Information - Please email:
greendragonsden@yahoo.com
Columbia Accident Investigation Board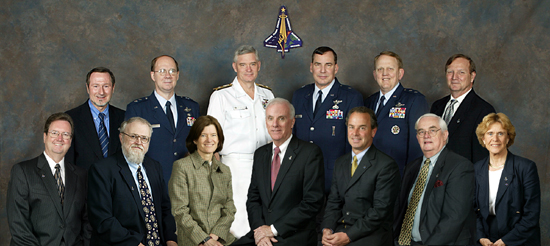 X
The 13 member Columbia Accident Investigation Board poses for a group photo taken in the CAIB boardroom. The official STS-107 portrait hangs on the wall in the center of the boardroom. From left to right seated are board members Roger E. Tetrault, Dr. James N. Hallock, Board Chairman Admiral (retired) Hal Gehman, Dr. Sheila Widnall, Dr. Douglas D. Osheroff. Standing from left to right are: Rear Admiral Stephen Turcotte, Brig. General Duane Deal, Maj. General Kenneth W. Hess, Dr. Sally Ride, Steven Wallace, Dr. John Logsdon, Maj. General John Barry, and G. Scott Hubbard.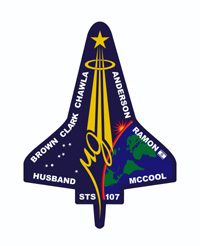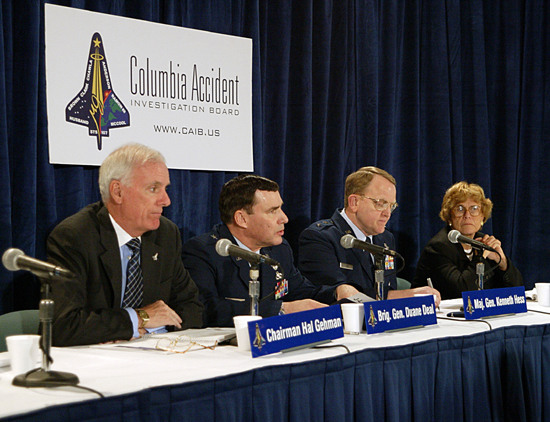 x
The CAIB was represented by (left to right) CAIB PAO who facilitated the press briefing, CAIB Chairman Hal Gehman, Brig. General Duane Deal, Maj. General Kenneth W. Hess, and Dr. Sheila Widnall at a press briefing at the Lunar & Planetary Institute in Houston TX on May 28, 2003. CAIB Photo by Rick Stiles 2003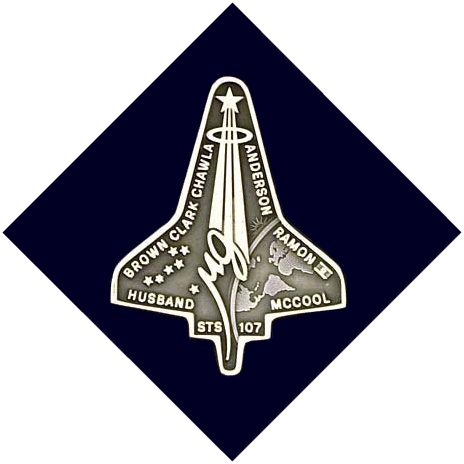 The seven STS-107 crew members take a break from their training regimen to pose for the traditional crew portrait. Seated in front are astronauts Rick D. Husband (left), mission commander; Kalpana Chawla, mission specialist; and William C. McCool, pilot. Standing are (from the left) astronauts David M. Brown, Laurel B. Clark, and Michael P. Anderson, all mission specialists; and Ilan Ramon, payload specialist representing the Israeli Space Agency.
STS-107 was the 113th flight of the Space Shuttle program, and the disastrous final flight of Space Shuttle Columbia. The mission launched from Kennedy Space Center in Florida on 16 January 2003, and during its 16 days in orbit conducted a multitude of international scientific experiments. The seven-member crew was killed on 1 February when Columbia disintegrated during reentry into the atmosphere.
The Columbia Accident Investigation Board (CAIB) was convened by NASA to investigate the destruction of the Space Shuttle Columbia during STS-107 upon atmospheric re-entry on February 1, 2003. The panel determined that the accident was caused by foam insulation breaking off from the shuttle, forming debris which damaged the wing; and that the problem of "debris shedding" was well known but considered "acceptable" by management. The panel also recommended changes that should be made to increase the safety of future shuttle flights. The CAIB released its final report on August 26, 2003.
Major findings
The board found both the immediate physical cause of the accident and also what it called organizational causes.
82 seconds after launch a large piece of foam insulating material, the "left bipod foam ramp", broke free from the external tank and struck the leading edge of the shuttle's left wing, damaging the protective carbon heat shielding panels.
During re-entry into the Earth's atmosphere, this damage allowed super-heated gases to enter and erode the inner wing structure which led to the destruction of Columbia. It was the seventh known instance of piece of foam, from this particular area of the external tank, breaking free during launch.
Organizational cause of the accident
The problem of debris shedding from the external tank was well known and had caused shuttle damage on every prior shuttle flight. The damage was usually, but not always, minor. Over time, management gained confidence that it was an acceptable risk. NASA decided that it did not warrant an extra EVA for visual inspection, feeling that it would be like a car going down a highway and hitting a Styrofoam cooler.
Board recommendations
The board made 29 specific recommendations to NASA to improve the safety of future shuttle flights. These recommendations include:
- Foam from external tank should not break free
- Better pre-flight inspection routines
- Increase quality of images available of shuttle during ascent and on-flight
- Recertify all shuttle components by the year 2010
- Establish an independent Technical Engineering Authority that is responsible for technical requirements and all waivers to them, and will build a disciplined, systematic approach to identifying, analyzing, and controlling hazards throughout the life cycle of the Shuttle System.